Journey To The Christmas Star
Een dapper meisje begint aan een gevaarlijke zoektocht naar de Kerstster. Alleen als ze die vindt, wordt het koninkrijk bevrijd van een vloek en zal de lang verloren prinses terug kunnen keren. Maar machtige vijanden doen er alles aan om haar te stoppen.
Journey to the Christmas Star
is een kerstavontuur voor de hele familie dat zich afspeelt in een magisch winter landschap.
Om te ontsnappen aan een groep dieven verstopt de veertienjarige Sonja zich in het kasteel van de koning. Daar hoort ze hem een treurig verhaal vertellen over zijn dochter, Prinses Goudhaar. De prinses is verdwenen in het donkere bos toen zij op zoek was naar de Kerstster. Overweldigd door verdriet heeft de koning de ster vervloekt. Alleen als hij de ster in de laatste dagen voor Kerst terugvindt, kan de vloek nog worden verbroken en zal Goudhaar naar het kasteel terugkeren. Lukt dit niet, dan zal ze voor altijd verdwenen zijn.
Sonja is vastberaden de koning te helpen en de Kerstster terug te vinden. Op haar reis naar de Noordpool krijgt ze hulp van magische helpers, zoals de boselfen, een grote bruine beer en de Noorder Wind. Deze hulp kan ze goed gebruiken, want de boze heks en de valse graaf doen er alles aan om haar plan tegen te werken...
Resensies
Heel leuke, magische kerst avonturen film!
Oorspronkelijk een Noorse film die in het Nederlands (beroerd) na gesynchroniseerd is.

Deze film heeft geen Christelijke verwijzingen.
Lees meer Resensies op:
MovieMeter.nl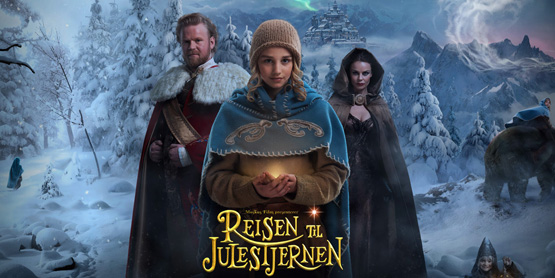 Oorspronkelijke Noorse titel:
"Reisen til julestjernen"